Building Inspections

Making a friend out of your building inspector

Having a friendly relationship with your building inspector makes the building inspections go a lot easier.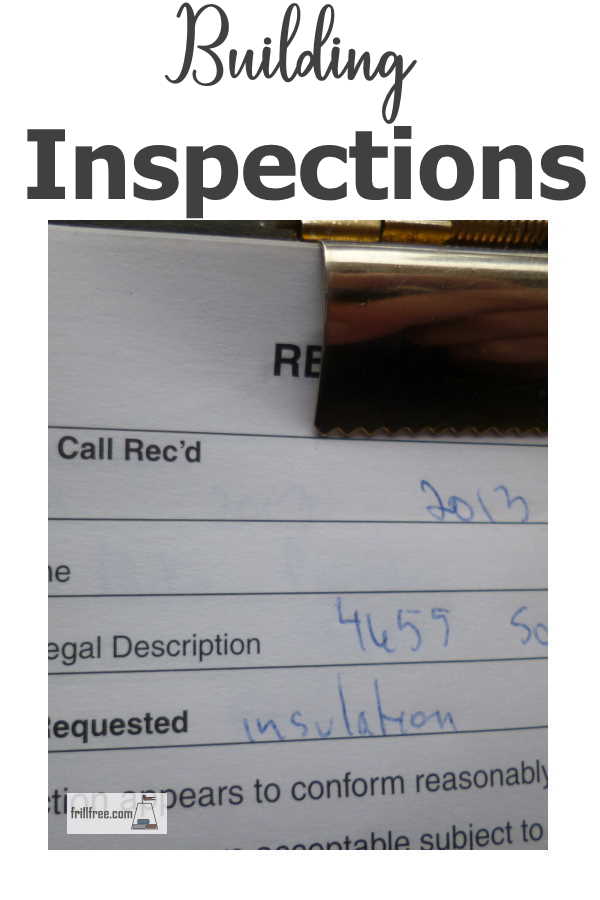 If you know in advance what they expect, it will be much quicker and more pleasant all around.  The building inspector in your area is knowledgeable about the building codes that apply to the climate, and your specific conditions.

First of all, you apply and (hopefully) receive permission to build; this entails a bright green card which you have to affix in a prominent place on the work site entrance; it has to stay there until the final inspection is completed, and the occupancy permit is issued (this means, you're good to go, and you can move in).
One thing they didn't mention was that as owner builders, we had to apply and be accepted into a program that ensures that we will be covered for any and all workmanship issues - for ten years. 
We also have to guarantee that we will not sell the house for one year, or build another one in the next three. 
Waiting for this to be accepted held us up for a couple of weeks, and we finally started on September 21.  The moving of the trailer was the first step in making the site ready for construction.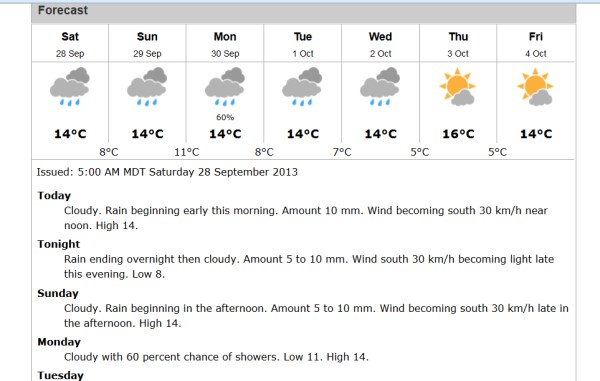 This is our second week of building, and of course, it is the site preparation and excavation stages.  Naturally, it rained, after weeks of nice dry weather.
We pushed through it, and got the building inspection on September 28 2013;

When you see those magical words; ok to continue - you set to and get it done until the next stage of completion.

Framing is a long process; it involves the joists and beams, walls, roof and windows.  Surprisingly, it took about two weeks to complete.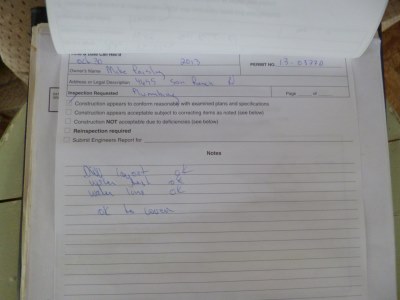 The plumbing rough-in is the next stage; we could get the inspection on October 30 - and got the magic words...

It's a red letter day today; December 11 - and the most time between building inspections. 
The insulation and vapor barrier took the longest, because of stopping and starting, running out of wire to do the electrical at the same time, having some back tracking and on top of all that, really cold (-19 Celcius) weather and the plumbing was still a bit iffy. 
Some time was spent under the house insulating it all to withstand that temperature, taking the owner builder away from tuck taping and plasticking.  Around this time, there was a lot of angst, lots of resentment and agonizing over the time it was taking, and the lack of quality in the materials, the planning and design, and the workmanship.
We spent several weeks after moving in without a door. The entry was protected with a few layers of lumber wrap, a curtain that was too short, and a bale of insulation that was moved to allow us ingress.  As you can imagine, this was quickly replaced with a proper (recycled) door.

These kinds of issues always arise when there's stress...see more about the trials and tribulations of running your own building project.

---
---