Peasant Chic

Clothing for Country Living
People the world over who work in fields, making crafts to sell to feed their families and do other simple work need clothing that is simple to make from readily available materials, easy to care for, and comfortable to wear.

It also needs to be perfectly suited to the local climate, easily washed and quick to dry, and simple to layer as the needs of the temperature change.

I call this 'peasant chic'.  The best garments are those that  fit well, no matter the changes in your size or shape, because they are going to last a long time and become your favorites.

Designing this type of clothing is a lot of fun. 
I set myself the limitations of the width of the fabric, and the fewest seams.  This is so you could use the selvedge edge of the fabric in case you don't have access to a serger, and to make it simple to cut out and construct.
These designs often use square pieces rather than complicated curves.  I also like patchwork of all kinds which gives the opportunity of showcasing a special piece of vintage or hand made fabric if there's not enough to make into a dedicated project.

I often use fabric that was purchased for a different purpose, like blankets made of wool for a patchwork seamless vest.
There are no zippers, but some of my designs do use customized buttons, to make the garment completely unique.
The latest version of the seamless vest has 'mud buttons' made of clay with a leaf design impressed into it, but I've also used wood slice buttons or ones made from antlers,  either slices or toggles.

With peasant chic, it's perfect acceptable to take an existing piece of clothing that has served you for years, and remake it, either by remembering the details that you treasured, or by taking the item apart to use as a pattern.

Typical peasant garments of the past were embellished with embroidery, pleats or smocking. These simple costumes were a display of the skill of the handcrafters.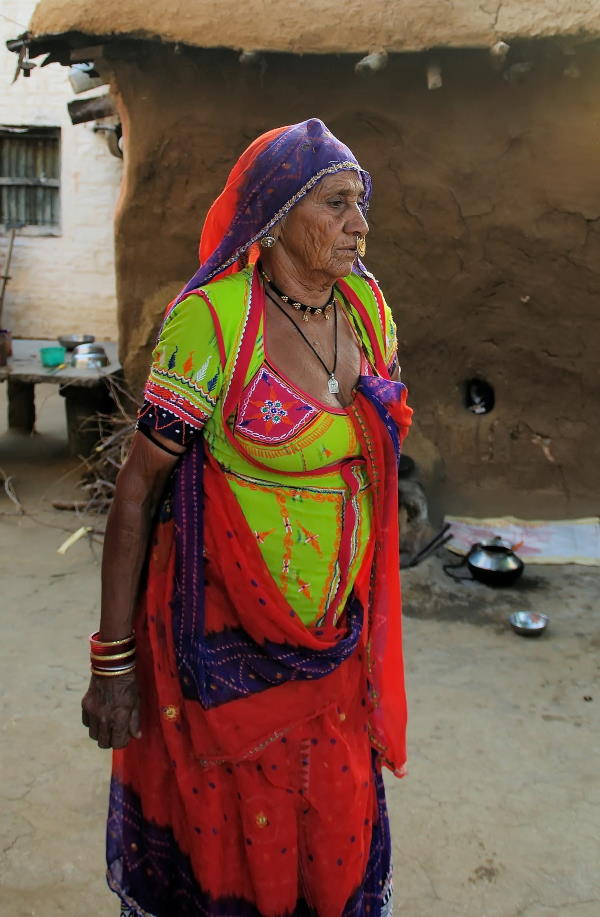 Indian Dress with lots of colour and embroidery
Vernacular clothing evolves, but only when necessary.  In some areas of the world, generations of people wear the same style of dress, maybe changing only the shoes and other accessories.

So what type of clothing will your capsule wardrobe contain next?  Will you take a garment design that has stood the test of time and re-imagine it in a different, modern fabric that is perfect for your lifestyle?

Make a super simple dress and embellish it with some antique lace, made by hand? Or make a sarong, poncho or serape out of a modern material for an up-to-date look and to make it easier to care for?

I'm in the process of making a snuggly blanket coat - all one piece except for the pockets.  It's two layers, one is a wool blanket from the thrift store, the other is a jaquard woven piece that's in my very favorite color - blue.  Should be cozy!

---