Fall Gardening
Planting the Autumn Garden
Fall Gardening is a simple way to extend the season, with some remarkable differences. The heat and bugs of summer fall away with the onset of longer nights.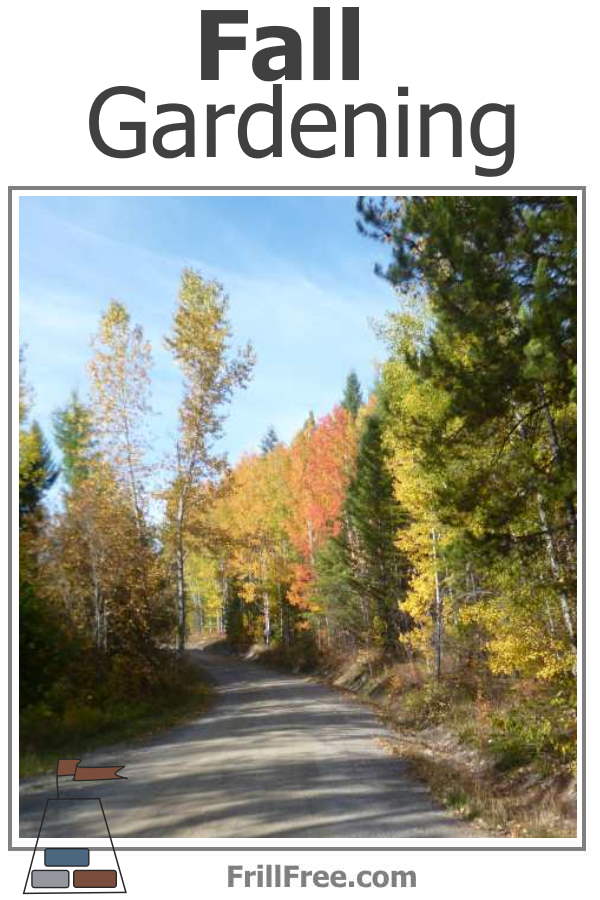 As soon as September rolls around, you can feel the sigh of relief from your garden. It's not over yet; there is still time to plant many cool temperature vegetables, with plenty of time for them to ripen.
Greens such as any of the Brassica family (Kale, broccoli, collards and mustards) love cooler weather and grow well under a row cover.
Use a thin sheer curtain, or Pellon fabric, a spun bonded polyester to give them shelter from the cold.
This gives about 4 degrees Celsius of protection - this means your temperature can go below freezing, and the crops will be protected under the cover.
Greens love the cooler temperatures of autumn
In a raised bed garden or containers, you can easily add a tunnel of wire or even twigs to keep the cover from crushing the tender new grow.
Don't forget to plant some cover crops too.
Ones that do particularly well in cooler climates are fall rye, which can even grow under the snow to provide some early greens for your chickens (or even your dog, who will be craving the greens around about spring time).
These green manure cover crops are a valuable and time honored way to prevent soil erosion over the winter, then add some much needed tilth once they're dug in in the spring.

If you're lucky enough to have a root cellar, you can store vegetables in there to keep all winter. If you don't have a cold room, or some other storage area for carrots, rutabagas, potatoes and the like, make a clamp.
This is a straw lined hole right in the garden, where your root vegetables can be safely left to be dug up later.
Cover them with dry leaves and a board so you can find them under the snow, and they stay crisp and ready for the soup pot until spring.
In a root cellar or cold room, I use large delicatessen buckets to put carrots and other root vegetables in. A loose fitting lid will keep mice out, and they'll stay crisp for a long time.
Kale is one of my favorite fall vegetables - and in an added twist it's also stately and gorgeous. Kale is even better after a frost, so you can eat greens well into late fall.

This is one plant that has many benefits, not least of which its high antioxidant content - as a brassica (in the same family as broccoli, cabbage and collards) eating this vegetable family often can help prevent colon cancer.
Did I also mention that it's delicious, lightly braised and seasoned, or as an added stronger counter point in coleslaw or soup?
Fall chores to tackle are to build your winter compost system, whatever that happens to be.
A worm bin, winter compost pile or bokashi should be in place before the ground freezes. It's easier to get it set up earlier, and give it a chance to start heating up.
Usually, my compost pile is really cooking by the time the cold weather arrives.

Protected from freezing by a layer of fall leaves or hay bales, it percolates away through the colder months, and it's pretty much completely rotted down by the time I want to plant.
Share your story or article here;
Do you have a great story about this? Share it!
What Other Visitors Have Said
Click below to see contributions from other visitors to this page...

Fall Gardening Guide and Checklist 
The growing season is almost over by the time fall rolls around but that doesn't mean it's time to stop gardening. There are many things to be done in …
---