Super Easy Spaghetti Sauce

A Pantry Recipe
I am a participant in the Amazon Services LLC Associates Program, an affiliate advertising program designed to provide a means for me to earn fees by linking to Amazon.com and affiliated sites. Other links on this site may lead to other affiliates that I'm associated with.
When I worked for an older couple who owned a plant nursery, quite often they would say, what do you want for supper? The usual?  And the other one would say, The Usual.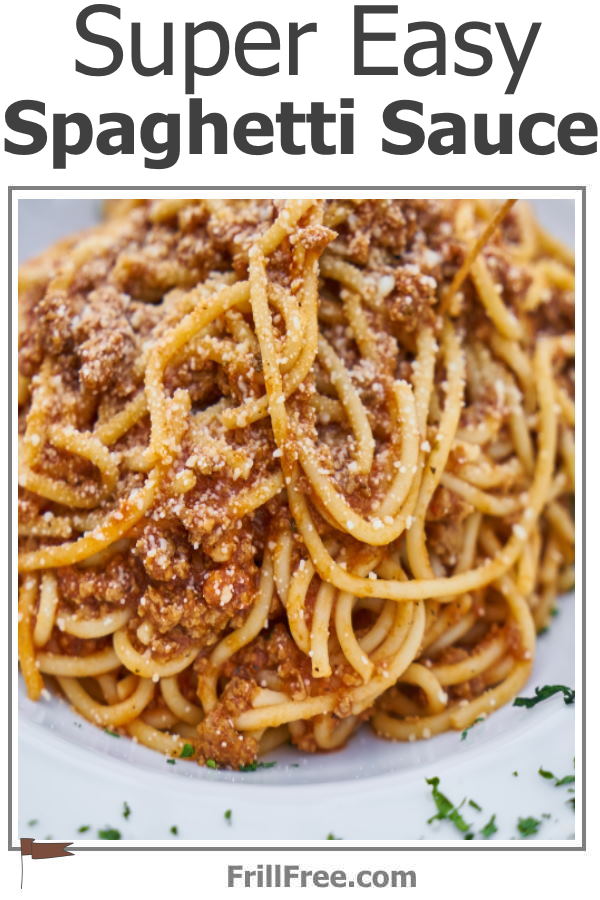 What was The Usual?  It was homemade spaghetti sauce that they made in bulk, and canned.  I don't can mine, I freeze it after it's made, but it's the same method of cooking in bulk.  Here's how I make it.

I love cooking on my woodstove (it is, after all, pretty much free heat) in my pressure cooker. It takes more time to cut things up than to actually cook it.

Most of the ingredients I'm pretty sure you'll already have in your pantry.  If you don't, there are many acceptable substitutions.

First steps; start cutting up a quarter to a half onion.  I like it small.  You don't need lots, if you use the salsa that I list in the ingredients.

Chop four medium mushrooms.  In your large pan or pressure cooker, heat up some oil.  I use extra virgin olive oil.
Saute the onions and mushrooms until soft.
Add a half kilo (one lb.) ground beef, cook until it's all coloured.  If it doesn't go brown, that's okay.

Sprinkle with one package or teaspoon powdered beef boullion, one teaspoon Italian seasoning (dried basil, oregano, thyme and rosemary) and half teaspoon dried parsley. Option; fresh homegrown herbs!

Add one package of spaghetti sauce seasoning mix.

Mix well, then add half a jar of medium or mild salsa, and one full jar of spaghetti sauce. The brands don't really matter - use what you normally have on hand. 
Having trouble opening the jars?  Here are some tips for that.

If the sauce needs thinning down a bit,  use chicken stock, wine, V8 juice or even water.

Looking for ingredients to make this super easy spaghetti sauce?  Try these;

Cook slowly, simmering, stirring often to prevent sticking, for one hour or so (less if you're using a pressure cooker). 
Take it off the heat, then let it cool in the pan.  Refrigerate overnight for best results. 

Next day, split it into jars or containers and freeze. 
This keeps for a long time in the freezer, but if you're like us 'the usual' will become a weekly favorite to have over pasta (I like quinoa spaghetti noodles, but there are lots to choose from) sprinkled with grated goat mozzerella or parmesan cheese.  Side salad optional.

---
---