Saving Nasturtium Seeds

The Most Economical Annual
Last year, to fill in some baskets, I bought (yes, bought) two plugs of Nasturtium 'Alaska' which has interesting variegated leaves.  I wanted some to trail, which these can be allowed to do, or trained up a string to make a screen.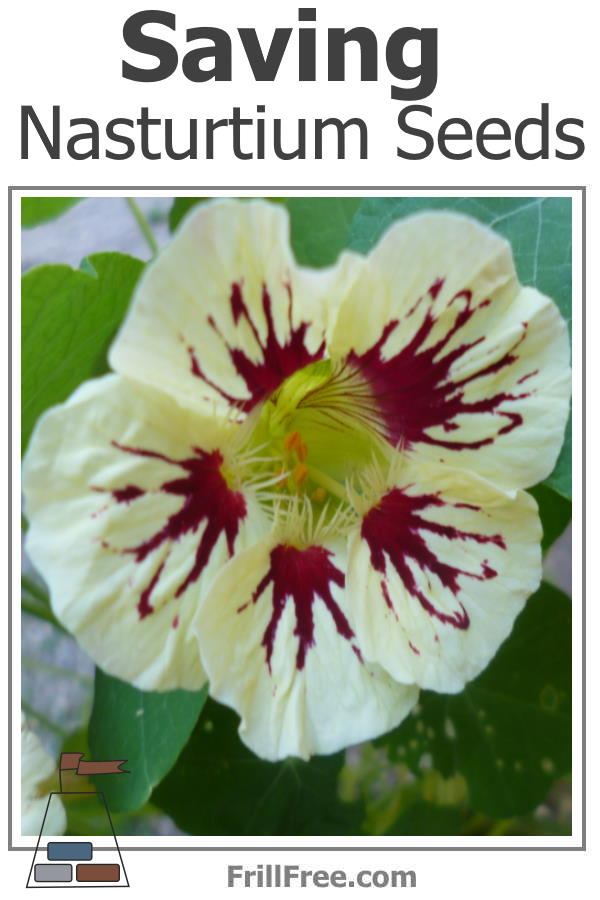 Because they were pricey to purchase that way, I got on it early and started to save the seeds, thinking that as they were the only two, that I would be pretty much guaranteed to get some with variegated leaves.
These plants are easy to grow from seed, and most catalogues issue a huge variety of different forms; from tall rangy ones, to compact bushy types, some with no tail, others with a flat open face. It's difficult to narrow it down - I want some of each and every kind there is!
The shorter forms are some of the best flowers for planting beside your vegetables, as they attract so many pollinating insects. They can also act as a trap crop, which means they will also attract pest insects like aphids, which keeps them from your broccoli.

I collected the fleshy pale green seeds after leaving the dying flowers, and set them all in a plate to dry, with the companionship of a couple of those little sachets of desiccant that you get in the bottle of vitamins to keep them dry.

They took a few weeks, as I kept adding more to the plate as I gathered them.  After a while, they shriveled up, and some were super tiny at the end, which I thought might be  problem.  Sometimes when seeds aren't that big they have a hard time germinating, running out of steam before they grow.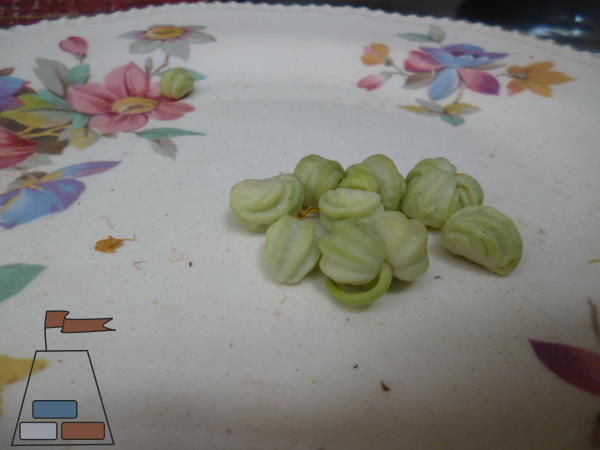 Nasturtium seeds drying on a plate
I'm happy to say that this theory is not accurate - all of the ones I planted grew just fine, and as long as they are kept moist at first, will turn into nice bushy plants.
One thing though; none of them have variegated leaves! They've just started to bloom now in July, and the shocking thing is that they are totally different than their parents.
Some have the bright orange flowers, but there is one that is two toned, with some bright orange parts and some mixed with a paler, brighter gold. There are two that have a pale parchment coloured background with blood red splotches on - not the usual bee guides in thin lines that the common type has.

Gorgeous Nasturtium flower
So now I'm puzzling over how that would have happened.  These colours and markings are so unusual, but they must come from somewhere.  For the future, I'll be continuing to harvest seeds from the odd ones, with the eager intention of seeing which genetics come through for next year.

This year I bought another two plugs, just to have some more genetic diversity - the yellow one has the most amazing scent, the other one, a bright orange, has very little.  Yet another genetic path to follow.
I may not save seeds from the orange one, even though with all the visiting bees and butterflies, there is bound to be some cross pollination between all the different types I've got going now.

Nasturtium Seed Storage

After they were completely dry and wrinkled, I stored them in a vitamin bottle, again with the same desiccant to prevent them from spoiling or going moldy.  If you want, just put the still damp seeds in a paper bag, which will allow them to continue to dry, even in storage.

---