Puppy Layette

Everything You Need For Your New Puppy
Just like having a human baby, new moms and dads quickly find out how much stuff they need for their new puppy, and how much easier it is to get some things ahead of time.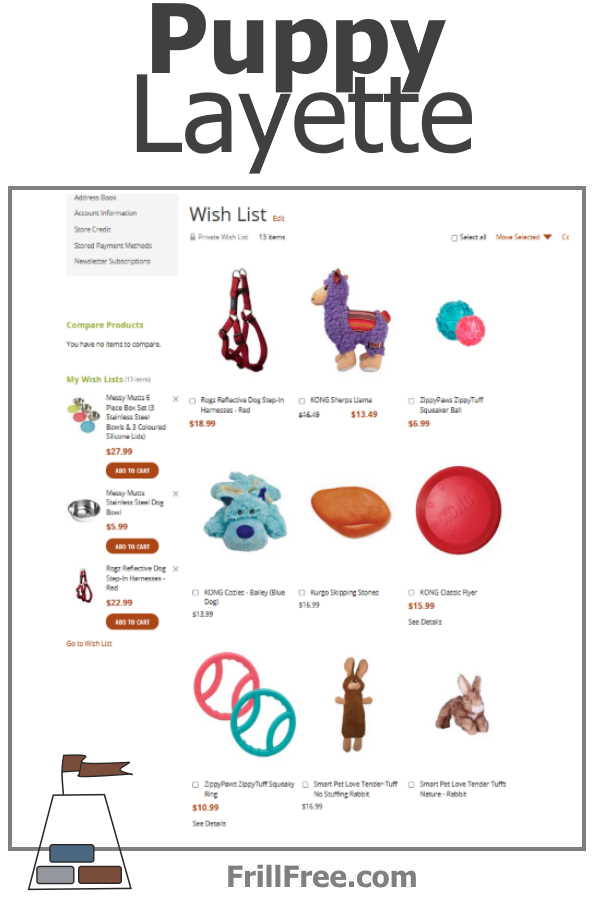 The day you bring your new puppy home can be exciting, but fraught with anxiety.  Having a few things set up ahead and ready before the big day makes things much nicer for you and the puppy.

A good breeder will sometimes give you some things to take home - a bit of the food they're eating so you can pick up more of the same, or, mix it with what you plan to transition the puppy to so as to avoid tummy upsets.

You may also get a towel, fabric scrap, toy or other item that has been rubbed on litter mates and the mom, to make it less stressful. 
A collar, with a bell in some cases to make it easier to keep track of the puppy as he or she explores the new surroundings, and possibly a harness and leash for those first outdoor potty experiences are all common items.

Accumulate these items ahead of time, so you can spend those first few precious days bonding with your pup;
A crate to sleep in - this can be wire or plastic hard sided, or even a soft travel crate.  Some wire crates come with a divider so you can partition off a section for their size now, and expand as they grow. Some people opt to start off with puppy in bed with them at night, for comfort, but there may be times when your pup needs to be okay with being in a crate for a while, or just for a safe place to nap.


Some towels, from the thrift store or old ones that have been washed and softened.  This makes it easy to wash them if the worst happens.


Toys that are durable and will stand up to being chewed on.  Some favorites are Nylabones, anything by Kong, and other manufacturers.  Watch carefully and discard if puppy chews any pieces off.


A puzzle feeder that will take some time to get the food out (this could mean the difference between having a shower, or going dirty!)


Tug toys can help redirect those sharp puppy teeth.  I like the ones that are made of Naugahyde or Pleather, rather than rope or fabric.  Play should be supervised.


Make a flirt pole for those games of chase and tug  indoors when the weather is not conducive to outside play.

Something to think about before your puppy comes home is where they will potty, and what you will do with the waste. 
Cleaning it up and keeping it sanitary is very important to prevent pests and even diseases, for you and the puppy.
You may want to check with your recycling center to see if they will take it when they collect green bins, and how you should package it (our pick up system insists on dog waste being in paper bags where it goes right into the compost bin).  You could also build a bokashi to deal with it right on site.

---