Potato Pancakes

Homestyle
I am a participant in the Amazon Services LLC Associates Program, an affiliate advertising program designed to provide a means for me to earn fees by linking to Amazon.com and affiliated sites. Other links on this site may lead to other affiliates that I'm associated with.
Got some leftover mashed potatoes but don't know what to do with them?  This recipe is so good that you may want to cook potatoes specifically to make potato pancakes.

The ratios in this recipe are flexible - use your discretion and add whatever you think will work.  Above all, make it your own.

2 cups or so of mashed potatoes, refrigerated overnight or longer are best.  These will be mashed with butter, salt and pepper and milk of some kind - non-dairy milk is fine, such as almond Silk milk.
Two teaspoons nootch or nutritional yeast mixed with half a cup or more of grated chedder cheese - goat cheese is fine. Things to try; aged cheddar, or parmesan cheese, or mozzerella.  Keep in mind that the addition of cheese may cause the pancakes to cook more quickly, or even burn.  Watch them carefully while cooking!

A good shake of onion powder, any other spices you like, salt and pepper.

1/2 to one cup of rice flour with the addition of two tablespoons of oat flour. The rice flour is very light, hence the addition of the oat flour which is more dense.
This will depend on how wet the potatoes are, and which variety.  Russets are drier than other types, so you might use less flour. Hold a little bit of the flour mix back to coat the patties in before cooking.

Mix all ingredients together, form into patties with your hands, cook in a frying pan or griddle in melted butter until lightly browned, flip to cook the other side.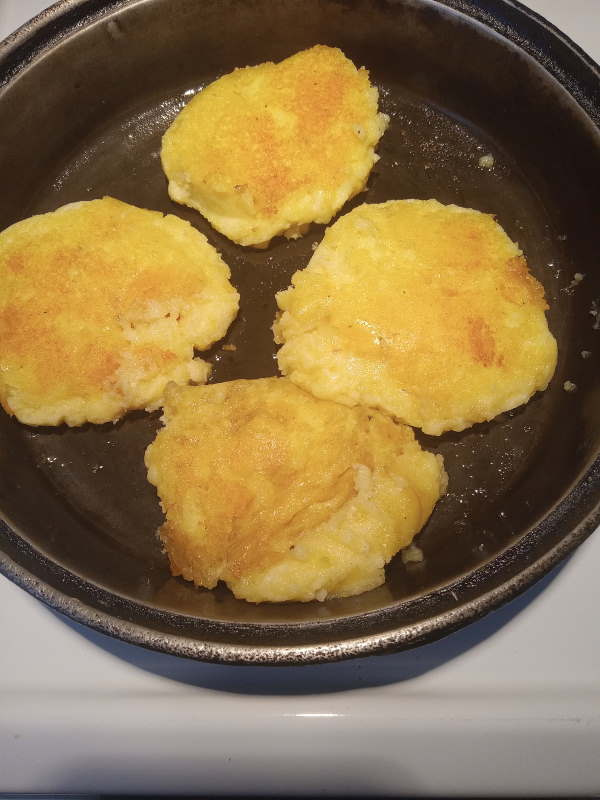 My preference is to use a well heated cast iron frying pan, well seasoned, with a small amount of butter - you can use a non-stick spray if you like first, then add the butter.
Four pancakes fit nicely in this, with room to flip them without damaging the top of the adjacent ones.

Keep warm until you are ready to devour them. Great plain or with bacon, or grilled steak.
---