Keeping Cool In The Heat

Ways To Survive Global Warming

With climate change upon us, and so far this year (2021) record smashing heat waves - in June - you might need some ways to keep your home cool.

In many hot countries, it's second nature to use these methods, but for us in the Northern Hemisphere and North America, it's never been necessary as heat waves generally only last a day or so, then cooling off begins.

If your weather forecast looks like this, you may want to get a jump on how it all works to shut your home down in the early morning to keep the coolness in as long as possible.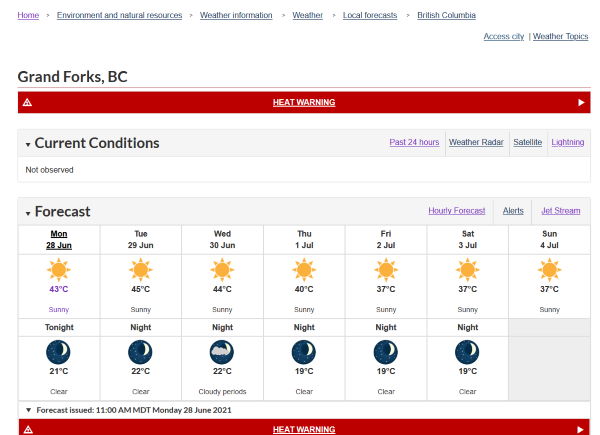 First of all, it really helps to have a lot of insulation in the walls and ceiling of your dwelling. 
We have six inches of Roxul(R) insulation, and it's not enough.  For the ceiling it's actually recommended to have 12", so guess what one of our planned projects is?  You guessed it; blown in insulation to fill in the extra six inches.

Here's how we stay cool; overnight, all windows that can be opened, are open.  Then, in the morning, as soon as the temperature is the same indoors and out, we close the curtains on all windows, and close them as well. 
They will stay closed until late in the evening when again, the temperatures match. 

The curtains are all double; with a layer of fleece or other thicker fabric, then lined with old white sheets to reflect the heat out of the house.
The layers are in two pieces, not sewn together, then hung on rings that have crocodile clips to hold them together - easy to change out the liner if it ages in the sun, and simple to take apart to wash and return them to the rods that hold them.

For the opening in the morning temperatures, lately, during this latest heat wave, the thermometer registers 21-24 inside and out to indicate we need to close everything down. This could be as early as 7:30 or 8:00 am.

As the sun goes down, it tends to cool off, but it can be 7-8pm when the temperature drops to manageable levels outdoors.  Only then do the curtains open, windows open, and fans go into windows and doors to direct cooling air into the interior of the house.
The rest of the day, the two fans we have are aimed at the room we're in, sometimes with a frozen jug of water covered in a damp t-shirt to act as a swamp cooler in front of the breeze.
Keep an extra jug of water in the freezer ready to go when the first one thaws out and is useless.  You can keep returning them to the freezer indefinitely.

With so many people cranking up the air conditioning and firing up every fan they can get their hands on, the risk is overloading the electrical grid.
It's only fair to keep your needs low so as not to overburden the electrical supply.  Of course, if you have your own solar array, use as much as you like!

---