How To Use Frozen Tomatoes

A Taste of Summer

During the summer, it's often easier to freeze tomatoes in a single layer in a zip loc bag as they become ripe.  Then in the winter, you can pull them out and use them.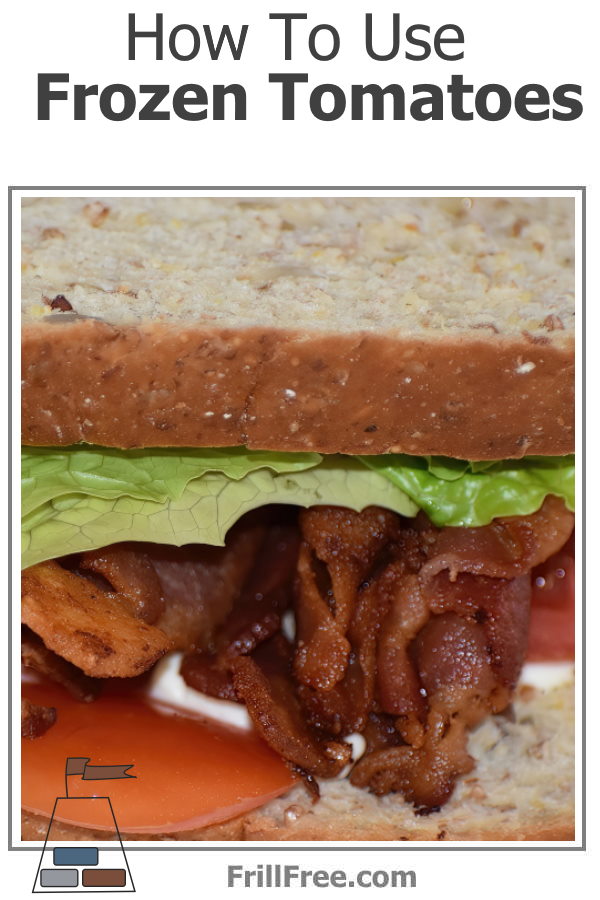 Freezing Whole Tomatoes

The summer is going on, with one hot day after another.  You have tons of ripening tomatoes, but with this heat, who needs to put the stove on to do all that canning?
So don't! 
Just wash your perfect ripe tomatoes, core out the stem end, pat them dry and put them in a single layer in a zip loc bag.  Sometimes it's easier to freeze them on a tray before bagging them.
Then freeze them. They'll keep for at least a year (even two, if you don't mind a bit of freezer burn). Use them singly, or a  handful at a time.

But how?  They are so handy, in a little individually wrapped package (the skin).  Just run them under hot water, while frozen, and the skin just slips right off.  Then they can be popped into chili or soup, to give it that taste of summer, even in the middle of winter.

Or, in my other most recent discovery, they can be skinned (as outlined above) drained and chopped and used as a replacement for expensive, watery tasteless imported winter tomatoes in my favorite sandwich, a BLT, or Bacon, Lettuce and Tomato Sandwich.
Simply spread the pulp onto one side of the toast, then assemble the rest of your ingredients.  This prevents that disaster common to all sloppy sandwiches - everything squishing out onto your lap.

The juice can be saved and added to soup or other recipes for a bit of added flavor. I put the whole, peeled tomatoes in a colander over a measuring jug or bowl to catch the melting juice.
Put them in the fridge the day before you plan to  use them in your recipe, or place them in a microwavable ceramic dish or measuring jug, microwave on the defrost setting (50% power) for a few minutes at a time.

So now you don't need to wait for harvest season to build your favorite sandwich with fresh tomatoes.  Get the taste of summer, any time.

---