Gluten Free Crispy Chicken

Finally - The Right Recipe

It's taken me years to figure out exactly the right ingredients to make the coating for chicken.  This is so easy, but so flexible, that you can use it for fish too, using several different ways to cook it so it's perfect every time.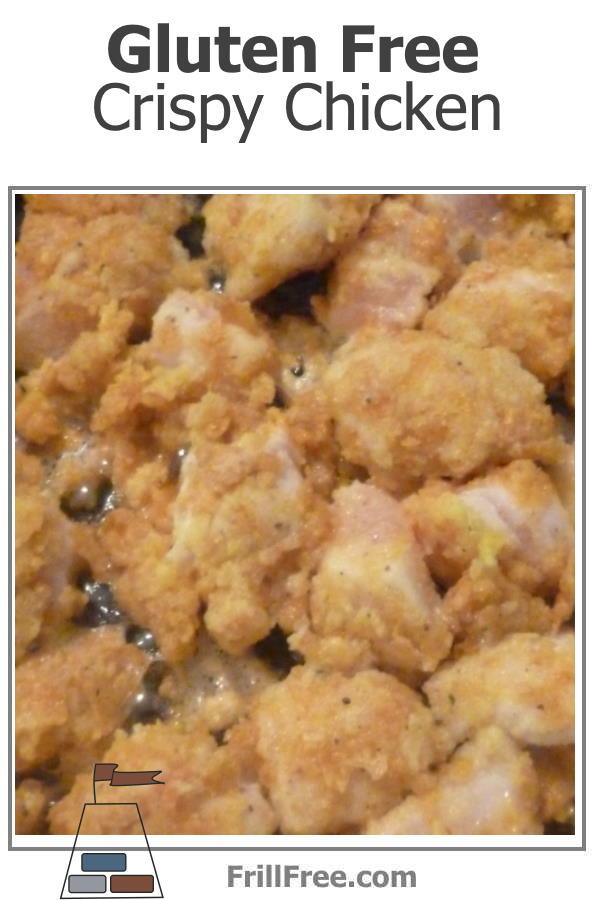 The coating is really basic, but gluten free.  I used to make a great flour coating for baked chicken, but since I can no longer eat wheat, I had to devise a new way of sealing in the moisture, while make the outside crispy and delicious.

Here are the ingredients, and some guidelines for measuring, but you may need to alter it a bit to suit your own tastes;

Kellogs Corn Flakes; approximately two cups, straight out of the box.  You'll crush these down to about half that, later.


Half a cup of ground almonds - I get these in the bulk section of the local supermarket.


Half to one cup of rice flour.


Seasonings; salt, pepper, Mrs. Dash, one teaspoon of dry salad dressing mix, whatever else takes your fancy.
Put all of these ingredients into a Ziploc bag, crush the corn flakes until they're about half of their original size.
Pour about one to two cups of the mixed coating into a shallow bowl to coat the chicken, keep the rest in the bag in the freezer, for next time.  I bet it won't be long before you want crispy chicken or fish again!

Don't use the bag to coat the chicken, to prevent cross contamination with the uncooked meat.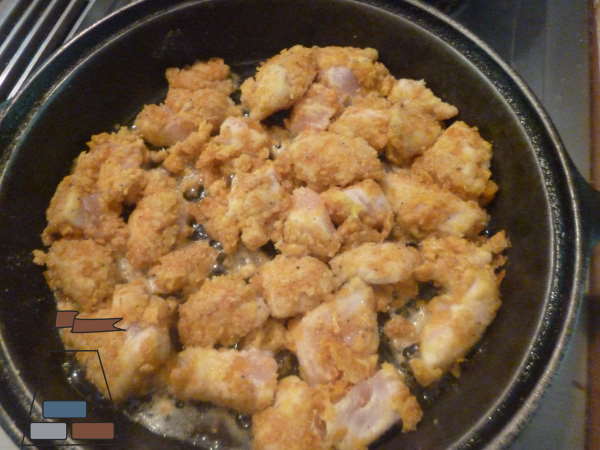 Use a heavy cast iron frying pan on the stove top, or a casserole in the oven
When you prepare your chicken (I use frozen chicken breasts, but you may prefer a whole chicken cut into pieces) make sure it's completely thawed.  Cut into smaller pieces if you want to serve it on salad.
Beat an egg in a one cup glass measuring cup or small bowl.  Pour over the thawed chicken pieces in a bowl or dish.  Dredge in the coating mix, arrange in a shallow casserole, buttered or oiled to prevent sticking.
Drizzle melted butter or olive oil over, place in a pre-heated 400 degree F. oven until browned (two chicken breasts cut into smallish pieces takes about 35 minutes in my oven).  Turn to cook the other side, cut one piece open to check for doneness.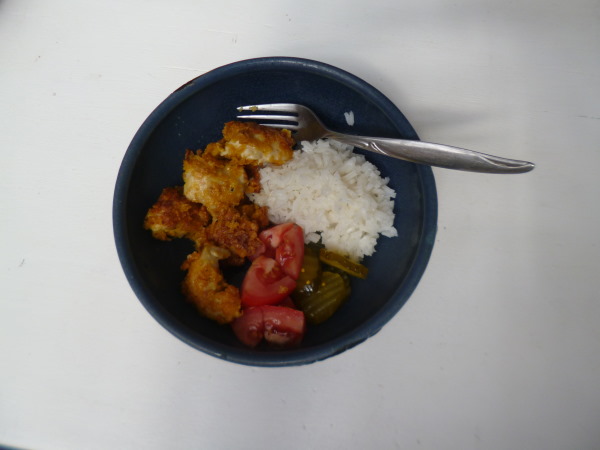 Serve in a pottery bowl with rice, tomatoes, pickles and a salad on the side
Other options; deep fry if you prefer, or use a frying pan and shallow oil. I use olive oil, in my cast iron frying pan.  Serve with noodles, rice, baked potatoes and green salad, broccoli or kale - so many possibilities for a great dinner (and sometimes left overs for lunch).
You can make a simple honey mustard dip, using one part honey to one part mustard, mix well, or use ranch dressing to dip.

---