Plant Names for Your Dog or Puppy

Beyond Typical Gardening Terms
Your dog deserves a name that echoes your interests and is unique, but not too odd that you're embarrassed to call him at the dog park.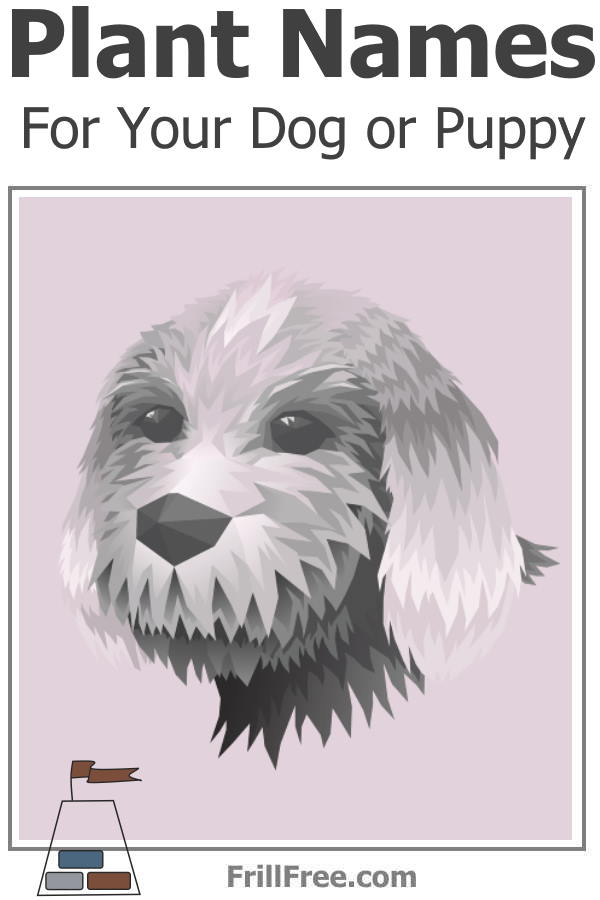 It needs to be short and easy to remember, and you actually like using it.  The dog needs to respond to their name for ten years or more, so make it something you'll feel good about.

People choose to name their dogs after particular activities or jobs (Digger, Dozer, Trooper, Ranger) or other things that evoke a pleasant memory (Angel, China, River, Sky) or after plants. 
Common names of plants that are often used for dog names are Daisy, Rose, Lily, Marigold and many more.

As a gardener and a certified horticulturist, I made the decision to marry my two favorite things; plants (or gardens) and dogs.  Now, I choose a name for my dogs that is also the name of a plant, but sometimes they aren't that common. 
I like that the names of plants are so unique and unusual, but roll off the tongue. 
Most references advise to keep to two syllables. To prevent confusion, if a dog already knows its name, you could rename them with a similar sounding name; such as Clover for Chloe.

Boy names
Acorn
Ash
Aspen
Bay
Bracken
Bramble
Branch
Cane
Cedar
Cosmos
Cotton
Court

Ebony
Fig
Flax
Garland
Grove
Hemlock
Hickory
Indigo
Linden
Patch

Pecan
Pepper
Pippin
Rowan
Reed
Rush
Russet
Sage
Sequoia
Sprig

Sprout
Thorn
Tea
Warren

Willow
Girl names
Begonia
Berry
Betony
Birch
Blossom
Bluebell
Briar
Clover
Dahlia
Daphne

Erica
Fern
Fleur / Flora
Frond
Glade

Hazel
Heather
Iris
Ivy
Lily
Lupin

Maple
May
Maze / Maize

Myrica Gale
Myrtle
Olive
Pansy
Poppy
Prunella
Posie
Quince
Tansy

Thistle
Tilia

Tulip
Viola / Violet


Of course, some of these names could be used for either a boy or girl dog. You choose. There are a few minor things to keep in mind; black dogs shouldn't be called Cotton, and a white dog shouldn't be called Ebony.

Do you have any to add to the list? Let me know!

---