How To Take The Casings Off Sausages
How To Take The Casings Off Sausages

Super Easy Method
I am a participant in the Amazon Services LLC Associates Program, an affiliate advertising program designed to provide a means for me to earn fees by linking to Amazon.com and affiliated sites. Other links on this site may lead to other affiliates that I'm associated with.
I've tried lots of ways to remove those nasty skins or casings from sausages, so you don't have to eat plastic or the natural intestine casings.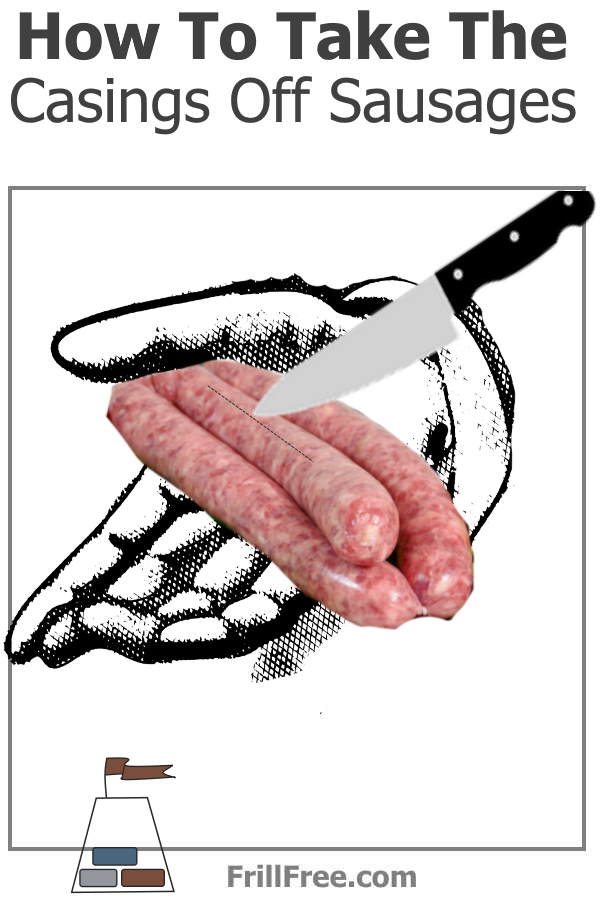 I first tried boiling the sausages, then peeling off the skins, but they are hot from the boiling water, and it's messy. I thought there has to be a better way!

So I developed this method, which takes seconds to do, and you can discard those skins without the need of boiling water. You still need the water to be hot, but it can be right out of the kitchen tap.

Note that this technique is for sausages like Johnsonville Brats or similar, any size, any flavor.  It's not for things like garlic sausage with the thick smoked skins.

So to start with, get into the habit of freezing your sausages, whether they are from the butcher in paper wrappings, or in StyrofoamTM trays.
If you like, split them into serving sizes and package them flat, in a zip loc bag or something similar.

Then when sausages roll around in the rotation of meals, about an hour before you wish to eat, take out the sausages, remove the packaging.
I use two small flat casserole dishes for the next part. In one, I run hot water from the kitchen tap. Place the frozen sausage in this briefly, like for a half a minute.
While running the hot tap, slice along the length of each sausage with a sharp paring knife or steak knife. I prefer a serrated knife as then the casings can be easily peeled away and discarded, but you may find a different knife easier to use.

As each sausage is peeled, place it in the other shallow casserole. When they're all done, put the casserole into the oven at 400o F for twenty minutes or so, take it out and turn the sausages, put back in for ten or twenty minutes to finish cooking. 
Depending on the size, breakfast sausages taking about ten minutes per side, and thicker sausages taking longer, you could be serving the meal in less than 45 minutes.

Using this method of taking cases off sausages you'll not only save energy by not having to plan ahead, but you'll find the one casserole method of meal prep prevents extra clean up.

---