Fire Mitigation on the Homestead

Protect Your Home From Wildfires

With climate change, wildfires are an ever present danger, even in winter.  If plants have enough time to dry out, they can catch fire in any season.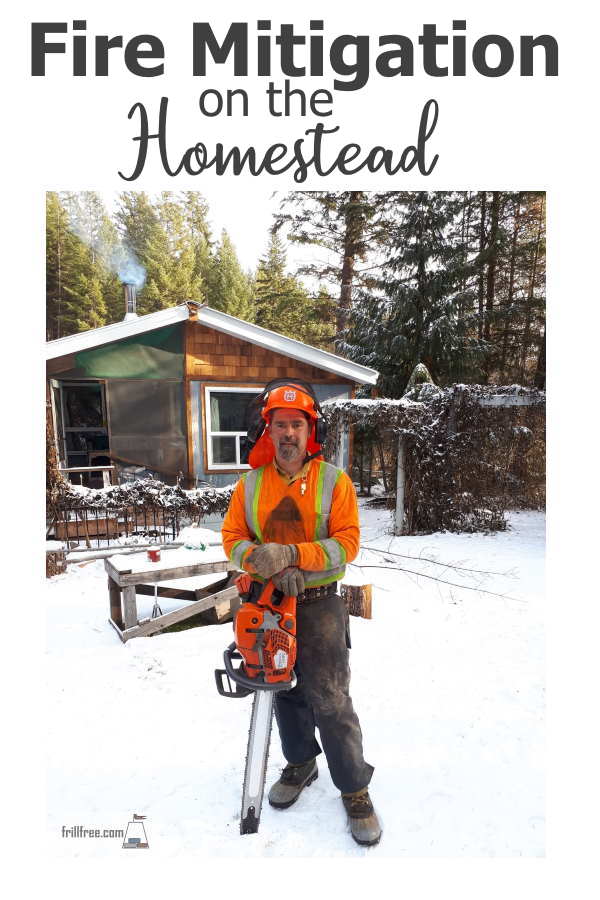 Even those of us that love trees and love living in a forest can't get complacent. 
Fire can destroy your home and possessions in minutes, not to mention take the lives of you, your family and your homestead herd and pets.

The most important things you can do are to manage the risk. 
When you're building your homestead dwellings and other buildings, pay a little more and get metal roofs on them.
Asphalt shingles, or worse, cedar shingles, are a recipe for disaster. 
Embers will just fall of metal roofs, which don't burn - but make sure you clean gutters and flat roofs of leaves and pine needles.

Other ways to mitigate fire consist of removing anything flammable to a safe distance from your buildings.  This includes spare lumber or firewood, hay, bundles of shingles, leaves and other 'fine fuels'.
Remove larger trees and fine brush in a radius of around 200-300 feet around your house. This prevents them from 'candling' and dropping embers on your home.  Embers are burning particles of branches, bark or needles that can even get sucked into the attic, starting a fire in your roof.  Your house is done if this happens.
If there are no trees close to the house, this is good for two reasons, the other reason is that they can't fall on the house either.

It's hard to cut down your precious trees, but hopefully they'll be put to good use as lumber or other building materials, or cut up into firewood, depending on what species of trees you have.
Some saw mills might be interested in buying them from you, but there are hoops to jump through. 
In British Columbia you need to apply for a permit, and some sawmills require a certain size - ie; they may not want your giant  trees - they prefer a uniform size, all under a certain diameter. Private mills may take them.

However you plan to use them, make sure you have a qualified faller to cut them down for you.  This is no place to cheap out or do it yourself unless you know what you're doing.

---