DIY Dog Leash

Made to Your Exact Specifications
I am a participant in the Amazon Services LLC Associates Program, an affiliate advertising program designed to provide a means for me to earn fees by linking to Amazon.com and affiliated sites. Other links on this site may lead to other affiliates that I'm associated with.
There are lots of dog leashes in pet stores and other places, like online.  But sometimes they're just not exactly what you want.  Why not make your own?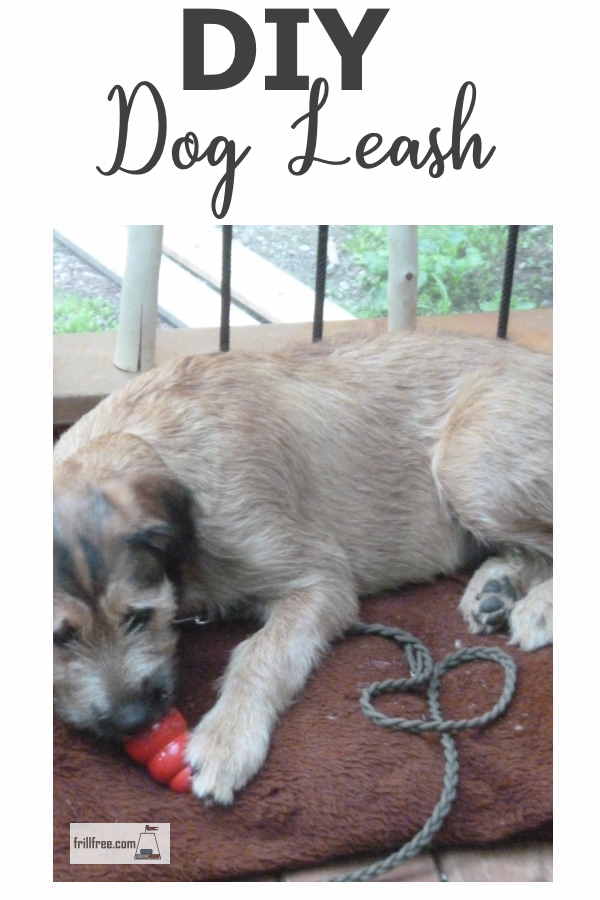 A while ago I bought some parachute cord, just because it was on sale.  There were two different kinds; one thick and one thinner.  It came on a roll of around 50', so I had lots. 
I got mine from Lee Valley, but Amazon has lots to choose from, in almost any length.  Get lots, because you'll use it.
There are many different colors in this selection (use the drop down menu to see them all before you settle on the ones you like best):

The thicker kind is a core of fibers, wrapped with a different type of fiber braided over it. The ends tend to fray, so it's important to burn the ends to seal them.

You can't break it - it's definitely made for using in parachutes. It is UV resistant, and won't rot or mildew.
It's even washable, which it needs to be if your dog wears it in the rain and drags it around, like mine.

However, for a dog leash, it's too thin and could potentially cut into puppy's skin.  So I braided it.
I divided the 50' into three and cut three lengths.  I put one end through the loop of a purchased clasp (my local hardware store carries a good selection of them). Amazon also carries them.

Then I started braiding.  Starting with approximately 16.5', I ended up with a leash about 13' long, with enough for a loop for my hand. This is the perfect length for training puppies, as it's long enough for them to go potty, have a freedom walk, or get reeled in learning their recall. 
Caution; this leash will cause rope burn if your pup is a puller, so train them to walk politely.

I was prepared for it to fall apart, as the braided in ends came loose, but even under extreme duress (Sable pulling, and dragging it after her at all times) it didn't show any signs of unraveling. 
In fact, the only thing that showed wear was the clasp, which wore down to the underlying brass.  The color of the parachute cord was originally brown, but faded to an olive green.
---