Cammidge Pottery

Well Known Potters in Ioco, B.C.

My Mum, Joyce, had done pottery before, using kilns to fire the pots, and applying glazes to make the pots useable for food.

When we first moved to Canada from the UK, my Dad left his well paying civil service job in London where he traveled on the train every day.  Here in Canada, he worked variously as a real estate agent, and other part time jobs which gave him time to pursue his love of carpentry.

We got used to his exploration of cedar chip carvings, burl coffee tables, as well as rocks slabbed into slices, and mosaic-ed into the tops.

With only one car, it fell to Andrew to pick Joyce up from her work as a child care counsellor in Burnaby, where she was in charge of the art department, or 'The Turn On Center' as it was known. 
There, she taught art, including pottery, and showed the students and staff how to throw, handbuild, and fire the results.

With time to wait until the class was done and the clean up finished, Joyce asked Andrew if he would like to try, and he leapt at the opportunity.  He never looked back - he had found his passion!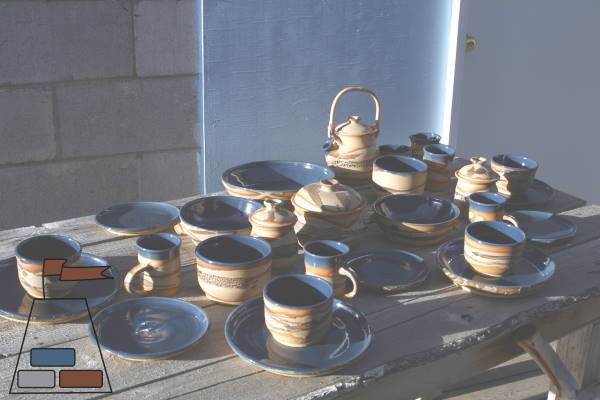 Cammidge Pottery - a selection of wares including bowls, mugs, teapot and more
For the rest of the 1970's, he honed his craft, purchasing a double garage from a house on the Ioco townsite that was being barged to Vancouver Island.  Over the years following, he furnished the Workshop with a retail space, two electric kilns, and several hand made kick wheels to throw pots on.
With a sign on the road, he was set to welcome customers, a lot of whom became faithful clients.  In time, Joyce retired from her job, and took up potting and weaving full time, selling the wares at craft fairs and other outlets.

They would accept custom orders of dinner sets, which was Joyces bailiwick.  Andrews skill set lay in producing one of a kind, large pieces such as bowls and planters, sometimes throwing pieces over the span of several days, adding another layer on as the previous one became 'leather' hard.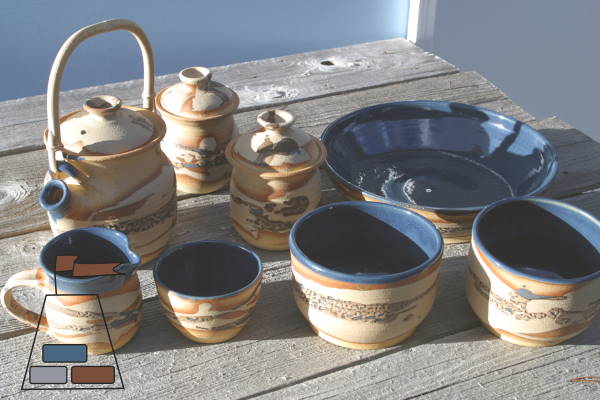 Cammidge Pottery - close up view of the wood ash glaze
They bought a store in Port Moody where Joyce could weave her bog shirts, purses and hangings, while Andrew stayed on the home front firing pots and finishing them for sale.
The youngest son would help pack pots on the weekend and load the car with wares to take to Burnaby Lake fair.  The car would come home with a lot less stuff to unpack!

In the early 1990's, with the busyness of Port Moody becoming a burden, they moved to Tatla Lake, in the Chilcotin area of B.C.  Andrew continued to pot for several more years, training daughter Janet in the intricacies of glaze mixing.  All the glazes are built from scratch, no pre-made glaze here!

Joyce Cammidge, knitting
Andrew retired from the pottery in the early 2000's, and went into long term care in Williams Lake, where he passed away in 2007 at the age of 90. 
Joyce still lives in Tatla Lake at the age of 93, but spends her time knitting socks on a knitting machine instead of making pots.  She still wishes she could mold a ball of clay in her hands!

In the mid 2000's, Janet also retired, and the pottery is now closed.

If you were fortunate enough to buy some of Joyce and Andrews pots, cherish them.  They are now irreplaceable.

---