Bramble and Apple Crumble

Gluten Free Dessert (or Breakfast)

I remember my Mum making this, after we had gone out to pick blackberries.  Scratched, with our clothes torn on the horrible thorns, we would come home with our hard won buckets of lush, shiny blackberries.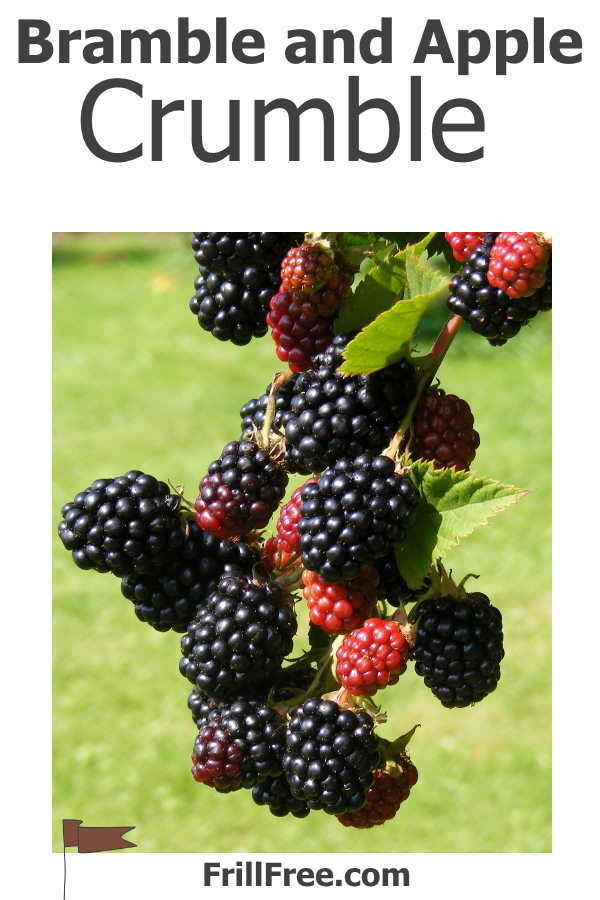 The apples would usually be from our big old tree in the back garden. No-one knows what the variety was, but they were inedible in hand.  In pies or crumbles though, they were perfect.

When I grew up, I would try to emulate the recipe my Mum used, but with it being in her head, I never could get it quite right.  Now, as an adult, I've been gluten intolerant for many years, so finding something that makes it as close as possible to Mum's recipe is very special.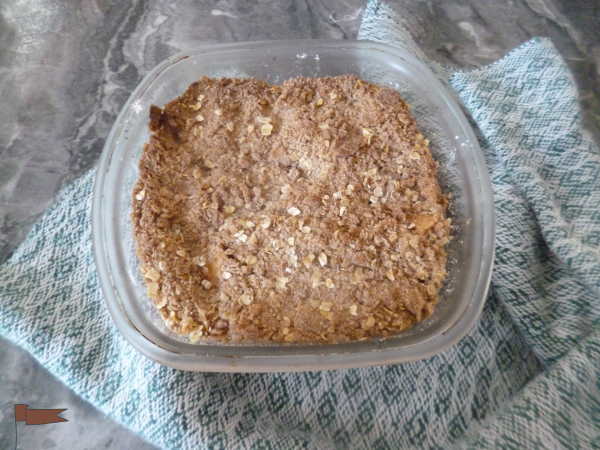 I used oat flour which was close, but it tends to be a bit stodgy.  I ran out of oat flour, and substituted rice flour. Bingo!  What a surprise!

You can eat this hot out of the oven with cashew milk on it for breakfast, or be patient and reheat it for dessert, and have it a la mode, or with whipped cream on it.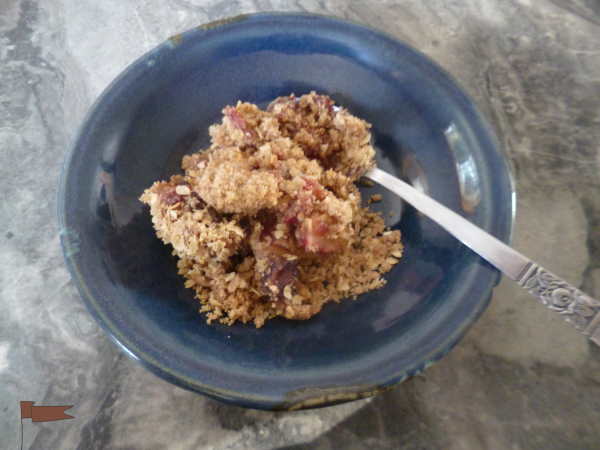 Substitute frozen blackberries (or any other fruit) to give it a seasonal flavor.

Use whipped cream, or here, cashew milk.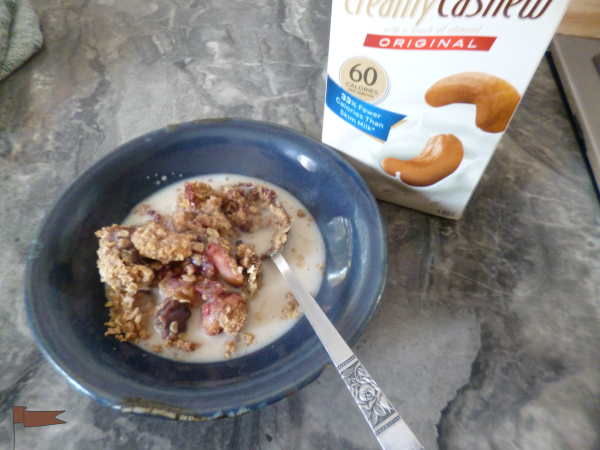 Here are the ingredients;
For the crumble;

Approximately one and a half cups of rice flour
Half a cup of butter
Half to three quarters of a cup brown sugar
One teaspoon of cinnamon/allspice/nutmeg or any other dried, ground spice that you like.
Half cup rolled oats
Cut the butter into the rice flour and brown sugar and spice.  When this makes a crumb like texture, mix in the oats. Reserve the crumb topping until you've prepared the fruit.

Peel and core one medium apple, and your choice of berries or other fruit (peaches, plums etc). 
Smaller pieces cook faster. 
Place the fruit in a single layer in a small casserole or baking dish. 
Sprinkle one teaspoon of cornstarch and one tablespoon of brown sugar over the fruit, stir to coat.
Then cover with the crumb topping.  Make sure your casserole is deep enough to contain the fruit if it bubbles over, or  use a cookie sheet to prevent spills.
Cook at 400 F for fifteen minutes, check for browning.  Turn the oven down to 350 for an additional five to ten minutes.  Poke the apples to test for doneness. Let it cool for a few minutes before eating.  The fruit will be extremely hot!
Keeps in the fridge, covered, for five days (if it lasts that long!)

---
---