Alsike Clover
Leguminous Cover Crop extraordinaire
The low growing alsike clover is recognizable by the tiny white horseshoe shape on each leaf.
White flowers emerge from the crown of the plant and attract bees through July and August; the honey that is derived from it a well deserved treat.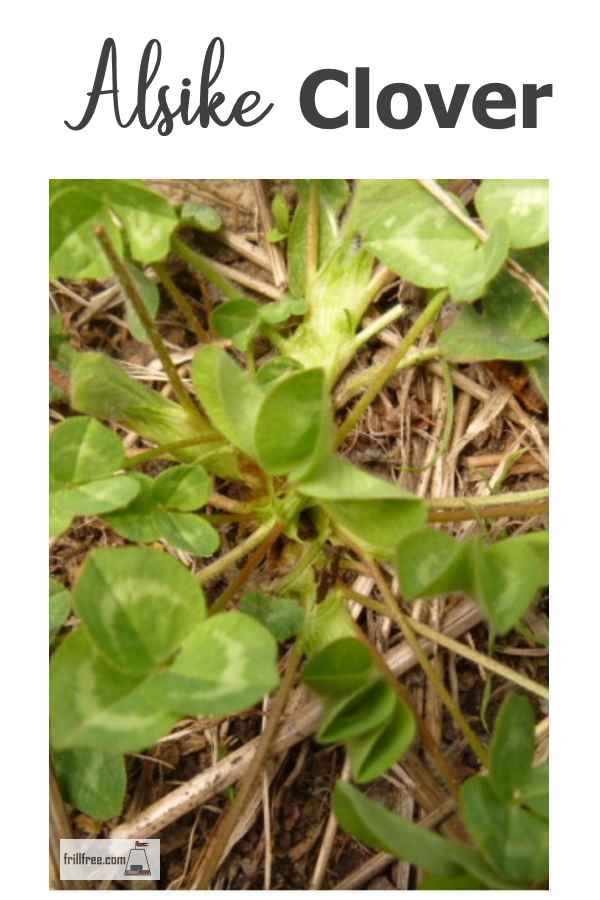 Alsike clover is a nitrogen fixing plant from the same family as alfalfa, with the same ability to glean nitrogen from the air and store it in the roots.
Seldom used as animal feed, due to its short stature making it hard to harvest, this legume is valued more for its erosion controlling talent.
The roots are extensive and spreading, holding soil in place while breaking up hardpan and clay soils alike.
One thing to keep in mind about Alsike clover is that there is apparently some type of fungus associated with it that is poisonous to horses.
It can cause spontaneous abortion in pregnant mares. Other than that, there is no downside to this great little cover crop. Its growth is flat to the ground, and really attractive, even in a lawn setting mixed with other forbes and grasses where it will be a magnet for butterflies and other beneficial insects.

Growing your own composting materials is an interesting new trend in sustainable gardening.
Many cover crops like some of the mustards, legumes like alfalfa and comfrey are specifically grown in beds where they can be pulled and composted, or made into weed tea, made in the same way as compost tea.
Using legumes that glean nitrogen from the air means that the compost is rich in many nutrients including nitrogen to be available to the plants that you ultimately feed with it.
Chickens love alsike clover, along with lots of other greenery.
Pulling them from garden beds and flinging them into the chicken pen will cause a flurry of excitement, as the birds race around carrying the plants off to eat them privately.
Feeding chickens leguminous plants contribute to those delicious rich yellow yolks.
Alsike clover can be grown from seed easily, but the seedlings are really tiny for a while.
They take about two seasons before blooming, and spacing them about 20 – 30cm apart (8-12") will be perfect if you're growing them in pathways to prevent soil erosion.
---