The Wahls Protocol TM

I am a participant in the Amazon Services LLC Associates Program, an affiliate advertising program designed to provide a means for me to earn fees by linking to Amazon.com and affiliated sites. Other links on this site may lead to other affiliates that I'm associated with.
Without reinventing the wheel, there are a few things that can help with your inflammatory disease, like MS, Rheumatoid Arthritis and many other disabling curses of modern life.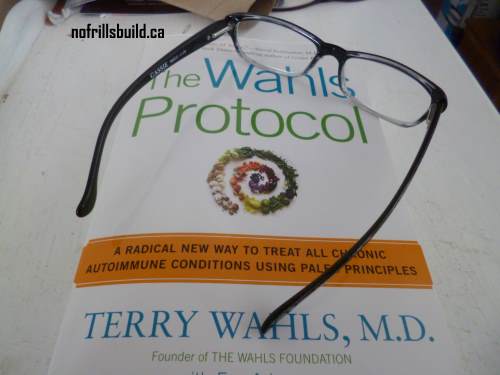 And it's not a new drug that promises a miracle cure.

I've just started my journey, and hope to recover my abilities; I want to garden again, and not feel dizzy walking across a room, and being able to leave my cane behind and not miss it. 
I've got hope now, and I'm excited to find new recipes that will be palatable and interesting and that the 'other half' won't turn his nose up at.  Dr. Wahl comments in the book that the success rate of those wanting to become gluten, dairy and sugar free is much higher with the support of their families.  I can see that first hand.

The goal with
The Wahls Protocol
is to find foods that emulate those that our ancestors would have hunted and gathered, with the goal of supporting our poor beleaguered tissues in their healing.
This is more than just a diet; it's a life change, and may take a while to get into the mindset.  I'm determined, because I don't want to be in a wheelchair - I don't belong there, I belong in the garden, building my crafts and growing the plants I love.  That's where I'll be.

See more from Dr. Wahls on this Ted Talk;

I'll continue to add recipes that fill the bill of being delicious and also reduce inflammation in the susceptible.

---