Name this project...

We just can't decide!

I am a participant in the Amazon Services LLC Associates Program, an affiliate advertising program designed to provide a means for me to earn fees by linking to Amazon.com and affiliated sites. Other links on this site may lead to other affiliates that I'm associated with.
Most of our projects are named even before we start building, but for some reason, this one is too close to our hearts.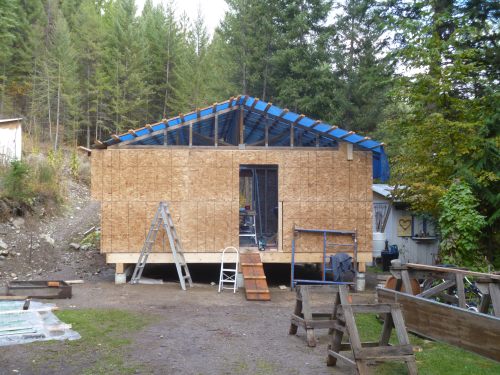 News Flash!
Frill Free is expanding and will soon have organic gardening and chicken raising topics, to fill out the homesteading experience.  Stay tuned for more.

Building our very own green home has been such an exciting journey; making the decisions on how to actually construct it is one thing, but actually carrying out those plans is another matter entirely.
There have been a few arguments (discussions) along the way; where should we put the bathroom fixtures; one of us prefers a shower, and there are plans to have a Japanese style cedar hot tub with a Scuba stove in it, but the other one likes an indoor bathtub - sorry - not enough room for the bathtub in this tiny house of only 504 square feet.
Other considerations; using the existing trusses for the roof makes it imperative to design a building that is only 21' wide.  Cramming all your stuff into that requires some out of the box thinking; storage becomes an issue if you follow the common thinking; modern house design requires that you keep all your possessions close at hand; even if you never use them. 
Downsizing, and minimizing your collections of precious stuff becomes more important as you get older.  What child wants to deal with all their parents hoardings?  Do it now, and save them a headache later.
So, help us out with a name already!

---